The Latest in Insurance News
Looking for ways to get the most from your benefits? Want to keep up with industry trends? Look no further.
Small Businesses Save with Level Funded Health Benefits
There are over 28.8 million small businesses in America, and one of the common misconceptions for small business owners in regards to health insurance is that they can't get access to the same cost-saving benefits that large corporations do. But that's just not the case. Level-funded health benefit plans allow small businesses to not only save but to retain claims fund monies as company assets. Even better? You don't have to wait for open enrollment to make the switch and start saving.
Level-Funded Health Benefits Keeps Your Small Business on Track with Your Budget
Level-funded health benefits are a smart way to budget for your small business because you pay a set amount each month, and you know what that amount is going to be when you sign up.
Incredible Savings Potential When You Enroll and Again at Renewal
While level-funded benefits already save your small business from the beginning due to the fact that plan rating is based solely on you and your employees, there's even more savings to be had down the road.
By taking advantage of the rollover options for money leftover in your claims fund at the end of your policy term, your small business can steadily reduce the cost of benefits in the future.
Here's an example how: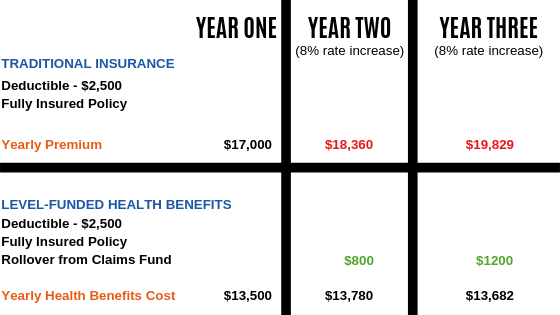 As you can see, level-funded health benefits put a much larger gap between your cost and the costs of purchasing plans through the ACA.
In fact, by electing to utilize level-funded health benefits, your company will see a greater difference in cost each year – even without taking advantage of the claims fund rollover option.
Small Businesses Everywhere are Making the Switch to Level-Funded
You can easily save 40% or more on your health benefits costs after just FIVE years with level-funded. And if you choose to go with the rollover option at the beginning of each policy period, that means you and your employees save even more.
With these kinds of savings, it's easy to see why small businesses everywhere are choosing level-funded and reaping the rewards of making this smart financial decision.
Stop Paying for What You Aren't Using
On average, 93% of employees use less than $2,500 per year in medical expenses, and only 7% of employees have catastrophic medical claims each year. Why should your small business pay for benefits you don't use? When you utilize level-funded health benefits, the money left in your claims fund at the end of your program term is yours to keep instead of being revenue for an insurance carrier. In addition, Excess Stop-Loss coverage protects your claims fund from the expense of catastrophic covered claims.
Level-Funded Plans Help You Set Your Small Business Up for Success
One of the key factors in ensuring your small business health benefits rates stay low is by your employees making smart decisions when seeking care, filling prescriptions, and keeping the overall cost of services down.
Simply put, when they save, you save.
Because you're in control over your plan, you are able to view claims as soon as they come in. And if you notice an employee isn't using the plan in the best manner, you have the ability to immediately help them correct-course, preventing future abuse of benefits and rising costs.
Find out how much you could save by switching to a level-funded health benefits plan with United Advantage Agency today.